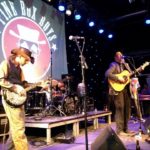 I have called upon Michael Thomas on several occasions. I am always confident in his advice. He has helped me shut down bands that were using our name, develop contracts for studio musicians, reviewed contracts and publishing agreements, helped us on copyright and trademark issues, and assisted us in licensing our music. After all of that, he still makes it out to a couple of gigs a year. Thanks for everything.
Performer & Songwriter
Pine Box Boys
San Francisco, CA
The testimonials or endorsements appearing on this Website do not constitute a guarantee, warranty, or prediction regarding the outcome of your legal matter, and are presented only as information to members of the general public. When hiring an attorney, testimonials or endorsements should not be given undue weight, but rather should be taken into consideration along with other factors such as education, licensing status, and experience.