COMPREHENSIVE LEGAL ADVICE SETS CREATIVE VISION LEGAL APART IN BUSINESS FORMATIONS
Creative Vision Legal is not a "one-and-done" document chop shop like non-lawyer online legal forms providers when it comes to helping you form a corporation, start an LLC or form a company based on any other business entity in California. Websites that provide online legal documents merely take care of the initial paperwork involved in business formations, but fail to offer comprehensive legal advice from a business formation lawyer before and after you form a corporation or start an LLC. This firm does, and here's how:
LEGAL ADVICE BEFORE YOUR BUSINESS FORMATION: CVL helps before your new business formation in California by including an initial 30-minute consultation with a licensed practicing attorney in all business formation packages. During your consultation, the firm will explain the types of business formations available in California and will help you determine which one is the best fit for your situation. For example, you may be wondering how to start a business in California, and in consultation with the firm you may decide that because you desire a flexible management structure for your small business and pass-through tax liability, forming a California LLC is the way to go. Or you may be part of a band that is starting to make money but does not want to incur the minimum yearly tax that comes with forming a California LLC or corporation. In that case, a band partnership agreement might be the best solution for you. The firm will not only answer your questions, it will ask the right questions to help you decide on the right business formation for your situation.
LEGAL ADVICE AFTER YOUR BUSINESS FORMATION: After helping with your business formation in California, the firm offers another 30-minute consultation a year after set up to assess the progress of your company.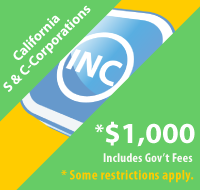 FORM A CALIFORNIA CORPORATION
Of the various business formation types available, a corporation is the standard entity for registering a new business. If you want to form a California corporation, the firm will guide you through the process of setting up a new business via incorporation, including helping you decide whether a C or S corporation is right for your company. Individualized legal advice before and after registering your business as a corporation is included, as well as some features that are different than other online business incorporation services.
Read More...
FORM AN LLC IN CALIFORNIA
An LLC ("limited liability company") is a type of business formation that has gained favor among entrepreneurs in states across the U.S., including California, because it offers (1) limited liability, (2) flexible management options, (3) flexible income taxation options, and (4) easy set up. The firm's package for forming an LLC in California most notably offers individualized legal advice before and after formation.
Read More...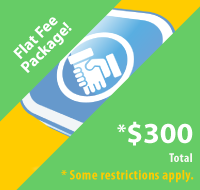 FORM A PARTNERSHIP WITH A GENERAL PARTNERSHIP AGREEMENT OR A BAND PARTNERSHIP AGREEMENT
A general partnership is a business formation comprised of two or more persons acting as co-owners in a business for profit. A band, as well as a business with two or more people selling shoes for example, is essentially a general partnership. Although there are no filing requirements to form a general partnership in California, having a well-written general partnership agreement or band partnership agreement is crucial in order to (1) clearly define partners' rights and responsibilities, and (2) determine the distribution of partnership profits and property when the general partnership dissolves or a partner leaves, whether that property is music and lyrics or toothbrushes.
From this site you can get general partnership agreement and band partnership agreement packages customized to the needs of your business or band.
Read More...
A WORD ABOUT INCORPORATION/LLC "DELUXE KITS"
Regarding the "Deluxe Kits" offered by other online legal service providers, there is no legal requirement for possession of fancy binders, or even seals, by any registered entity under California law.  Selling "Deluxe Kits" is a way for other online legal service providers to cash in by making entrepreneurs feel "official" about their business formation. Your business will be no more or less "official" by squandering precious start-up funds on a "Deluxe Kit".
As far as seals go, under California law "a corporate or official seal may be affixed" to documents (emphasis added), but as of 1872 (yes, 1872!), "all distinctions between sealed and unsealed instruments" were abolished.  This means that under California law, seals are not required.  That said, it is advisable to adopt a seal because unfortunately, even though it is not required under the law, some commercial landlords and many financial institutions still require documents from LLCs or corporations to be executed under seal.

This firm's suggestion: save your money and forgo "Deluxe Kits," but if you feel the need, go to Vistaprint or your local office supply store and get a binder to hold your official paperwork or a seal for cheaper.